Lot 82: KINGS OF MACEDON. Alexander III The Great. Posthumous Issue AR Drachm (After 323 BC).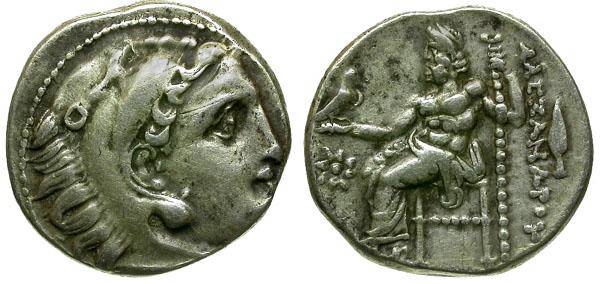 Sold

Winning Bid: $

125

4 Bid(s)
Description
Obv: Head of Alexander as Herakles right, in lion skin headdress.
Rev: ΑΛΕΣΑΝΔΡΟΥ, Zeus enthroned left holding eagle and sceptre, star before, spear head behind.

Price 1759.

Condition: Very Fine.

Weight: 4.15 grams.
Diameter: 17.26 mm.
Lot Details
Offered By:

VAuctions

Lot #:

82

Listing #:

175555

Closed:

Thursday, May 10, 2012 4:40:30 PM CT

Estimate:

$

175