Lot 85: MACEDONIA. Amphipolis. Under Roman Rule. AR Tetradrachm (158-149 BC).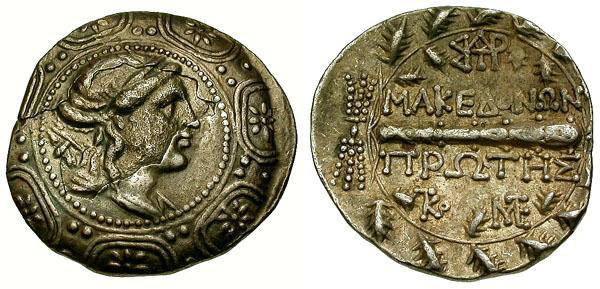 Sold

Winning Bid: $

190

3 Bid(s)
Description
Obv: Bust of Artemis right, within Macedonian shield.
Rev: MAKEΔONΩN / ΠPΩTHΣ, Club of Herakles and monograms within wreath, thunderbolt to left.

SNG Cop. 1314.

Condition: Very Fine with large area of delamination on obverse.

Weight: 16.62 grams.
Diameter: 32.23 mm.
Lot Details
Offered By:

VAuctions

Lot #:

85

Listing #:

175557

Closed:

Thursday, May 10, 2012 4:42:00 PM CT

Estimate:

$

250