Lot 388: Judaea, Judaea Capta. Titus. A.D. 79-81. Æ. Caesarea Maritima.
AUCTION: Triskeles - Auction 17 (Auction 320)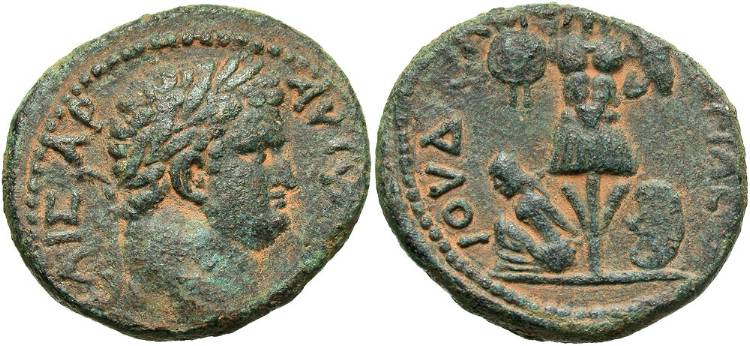 Sold

Winning Bid: $

305

7 Bid(s)
Description
Judaea, Judaea Capta. Titus. A.D. 79-81. Æ (25 mm, 11.69 g, 12 h). Caesarea Maritima. AYTOKP TITOΣ KAIΣAP, laureate head of Titus right / IOVΔ[AI]A[Σ EAΛωK]YIAΣ, trophy; to left, Judaea seated left with hands bound; to right, shield. TJC 384; Hendin 1449; RPC 2313. Powerful portrait of Titus. Green Levantine patina. Good very fine.
From an American Collection of Biblical and Related Coinage.
Titus led the final siege of Jerusalem, conquering and destroying the city. Upon his return to Rome an exorbitant victory procession was held. The Arch of Titus which commemorates this event stands in Rome to this day.
Lot Details
Offered By:

Barry P. Murphy

Lot #:

388

Listing #:

177238

Closed:

Friday, September 16, 2016 7:09:00 PM CT

Estimate:

$

200

Collection:

U.S. Collection of Biblical and Related Coinage