Lot 444: L. Scribonius Libo. 62 B.C. AR denarius. Rome.
AUCTION: Triskeles - Auction 17 (Auction 320)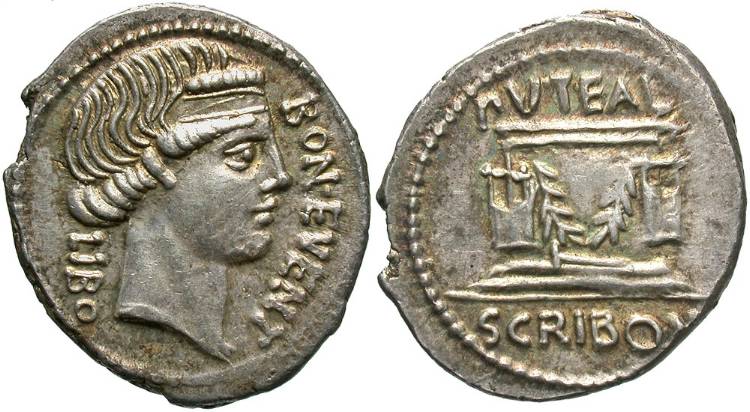 Sold

Winning Bid: $

210

5 Bid(s)
Description
L. Scribonius Libo. 62 B.C. AR denarius (19 mm, 3.84 g, 5 h). Rome. BON · EVENT before, LIBO behind, diademed head of Bonus Eventus right / PVTEAL above, SCRIBON in exergue, garlanded well-head decorated with two lyres and hammer. Crawford 416/1a; Sydenham 928; Scribonia 8a. Highly lustrous with subtle toning. Extremely fine.
The reverse depicts the puteal Scribonianum (Scribonian well-head) which had been set up by a distant ancestor of the moneyer. The well-head was quite ornate, being either festooned with garlands or, more likely, engraved with their likeness, and was located near the arch of the Fabii in the Roman Forum. The type comes in three varieties, with either a pair of tongs, a hammer, or an anvil set at the base of the well-head. Built upon a bidental, a spot that had been struck by lightening, the puteal Scribonianum served as an important meeting place for litigants and moneylenders in Rome as it was conveniently located near the praetor's tribunal. The obverse is appropriately dedicated to the deity Bonus Eventus, the bringer of good outcomes, who appealed equally to all parties involved in any legal dispute.
Lot Details
Offered By:

Barry P. Murphy

Lot #:

444

Listing #:

177294

Closed:

Friday, September 16, 2016 7:27:40 PM CT

Estimate:

$

200