Lot 465: Nero. A.D. 54-68. AR denarius. Rome, A.D. 65/6.
AUCTION: Triskeles - Auction 17 (Auction 320)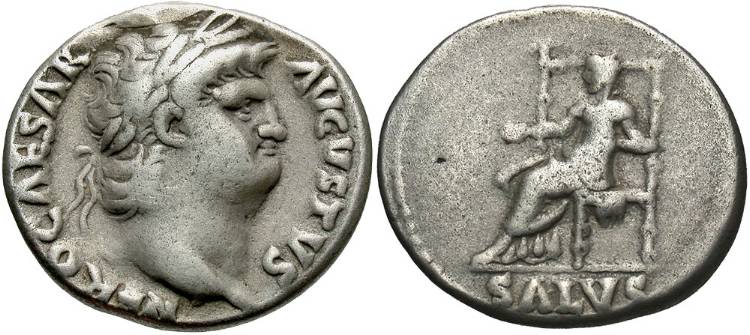 Sold

Winning Bid: $

230

9 Bid(s)
Description
Nero. A.D. 54-68. AR denarius (18 mm, 3.03 g, 6 h). Rome, A.D. 65/6. NERO CAESAR AVGVSTVS, radiate head of Nero right / SALVS in exergue, Salus seated left, holding patera. RIC 60; BMC 90-3; RSC 314. River-wear(?), mount removed. Good fine.
This denarius celebrating health (Salus) may perhaps refer to the revitalization of Rome in the aftermath of the Great Fire, which destroyed much of the city in A.D. 64. Alternatively, it may allude to Nero's foiling of the Pisonian conspiracy (A.D. 65), which sought to assassinate him and establish the Roman statesman C. Calpurnius Piso as a more moderate emperor in his place.
Lot Details
Offered By:

Barry P. Murphy

Lot #:

465

Listing #:

177312

Closed:

Friday, September 16, 2016 7:34:40 PM CT

Estimate:

$

150