Lot 467: Vespasian. A.D. 69-79. AR denarius. Rome, A.D. 70.
AUCTION: Triskeles - Auction 17 (Auction 320)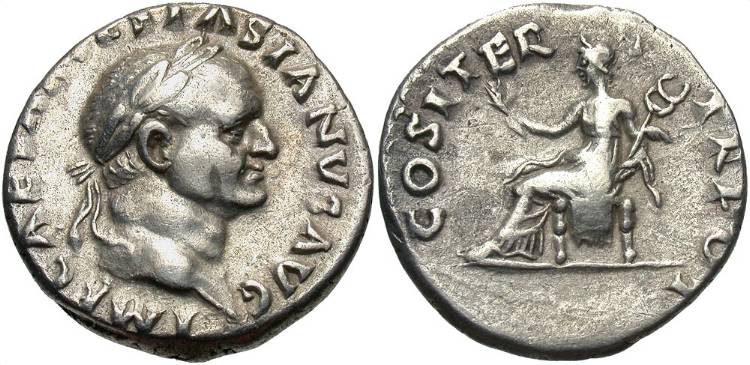 Sold

Winning Bid: $

70

3 Bid(s)
Description
Vespasian. A.D. 69-79. AR denarius (18 mm, 3.35 g, 6 h). Rome, A.D. 70. IMP CAESAR VESPASIANVS AVG, laureate head of Vespasian right / COS ITER TR POT, Pax seated left, holding olive branch and caduceus. RIC 29; BMC 26; RSC 94h. Very fine.
This denarius celebrates the return of peace (Pax) to the Roman Empire after the disastrous civil war that engulfed it during the Year of the Four Emperors (A.D. 69). It celebrates Vespasian - the victor in the civil war - as the author of the new Roman peace and the bringer of a successful conclusion to the Jewish War. Jerusalem at last fell to Roman forces in this year guaranteeing the eventual end of the Jewish Revolt.
Lot Details
Offered By:

Barry P. Murphy

Lot #:

467

Listing #:

177314

Closed:

Friday, September 16, 2016 7:35:20 PM CT

Estimate:

$

100