Lot 480: Hadrian. A.D. 117-138. Æ dupondius. Rome, A.D. 118.
AUCTION: Triskeles - Auction 17 (Auction 320)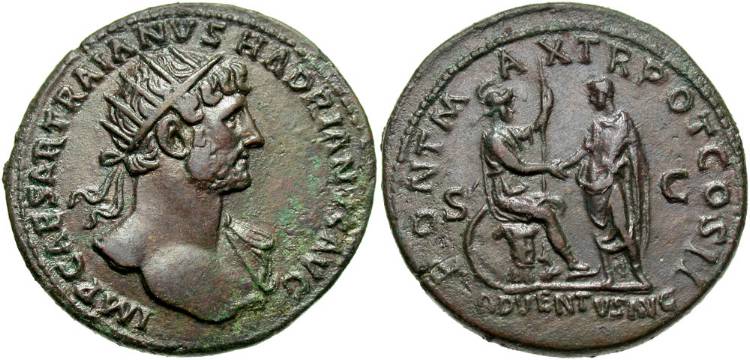 Sold

Winning Bid: $

1,800

23 Bid(s)
Description
Hadrian. A.D. 117-138. Æ dupondius (28 mm, 11.38 g, 5 h). Rome, A.D. 118. IMP CAESAR TRAIANVS HADRIANVS AVG, radiate bust of Hadrian right, slight drapery on far shoulder / ADVENTVS AVG in exergue, PONT M-AX TR POT COS II around, S C across field, Roma seated right on cuirass, holding spear and clasping hands with emperor, togate, standing left. RIC 554. Nice brown patina. Extremely fine.
Hadrian was a hands-on administrator who visited nearly every province of the Empire during the course of his twenty-one year reign. While technically this issue is not part of his 'Travel Series' coinage, it is a nice type to include in that collection (a few others which are included in this sale) as it commemorates his arrival in Rome from the East shortly after his elevation to the throne.
Lot Details
Offered By:

Barry P. Murphy

Lot #:

480

Listing #:

177327

Closed:

Friday, September 16, 2016 7:39:40 PM CT

Estimate:

$

500