Lot 509: Caracalla. A.D. 198-217. AR denarius. Rome, A.D. 207.
AUCTION: Triskeles - Auction 17 (Auction 320)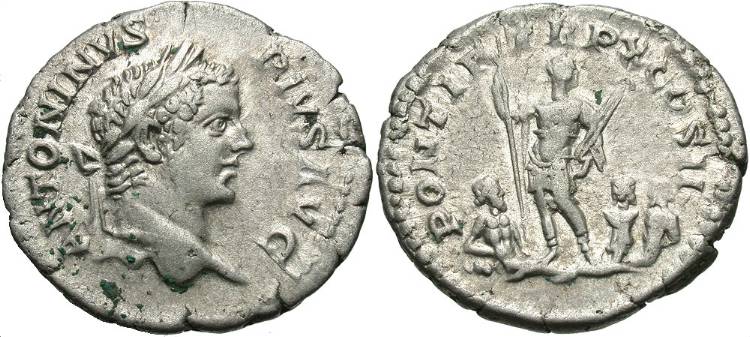 Sold

Winning Bid: $

180

4 Bid(s)
Description
Caracalla. A.D. 198-217. AR denarius (19 mm, 3.24 g, 6 h). Rome, A.D. 207. ANTONINVS PIVS AVG, laureate head of Caracalla right / PONTIF TR P X COS II, emperor standing half-left, head right, holding spear and parazonium; two river-gods reclining to right and left, holding reeds; at feet to right, seated female figure (Britannia?). RIC 96 corr.; BMC 555 corr.; RSC 441. Rare. Choice very fine.
The river gods depicted on the reverse of this coin at the feet of Caracalla probably represent the rivers Eden and Tyne, which run near to Hadrian's Wall. Caracalla was in Britannia during A.D. 206/7 overseeing reconstruction of areas of the Wall that had run into disrepair.
Lot Details
Offered By:

Barry P. Murphy

Lot #:

509

Listing #:

177356

Closed:

Friday, September 16, 2016 7:49:20 PM CT

Estimate:

$

200