Dated Parthian Silver Tetradrachm. Rare!
Lot 67: KINGS of PARTHIA. Phraatakes. AR Tetradrachm, dated year 311 SE (1 BC). Rare.
AUCTION: Pars Coins (Auction 378)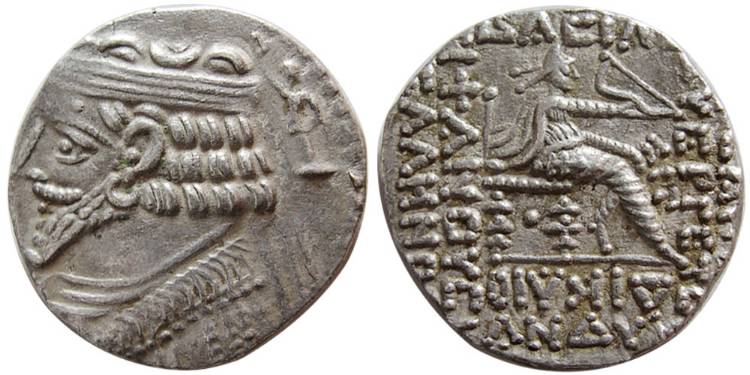 Sold

Winning Bid: $

775

5 Bid(s)
Description
KINGS of PARTHIA. Phraatakes (2 BC - AD 4/5). AR Tetradrachm (14.62 gm; 25 mm). Mint = Seleucia on the Tigris. Year = 311 SE, month = Xandikos (Mar/Apr 1 BC). Diademed bust left, wart on forehead; Nikai flanking, crowning Phraatakes with wreathes / Archer (Arsakes I) seated right on throne, holding bow; (year) to inner right, (month) in exergue. Sellwood 57.7; Shore 315. Rare. Sunrise 401; Sellwood 57.3var. Choice EF. Original find patina. Rare.
Lot Details
Offered By:

Pars Coins

Lot #:

67

Listing #:

3472

Closed:

Friday, July 29, 2022 11:22:00 AM CT

Estimate:

$

1,000