Lovely strike. Extremely Rare.
Lot 146: SASANIAN KINGS, Vistahm, (AD 591/2-597). AR Drachm. RD (Ray) mint, year 2.
AUCTION: Pars Coins (Auction 378)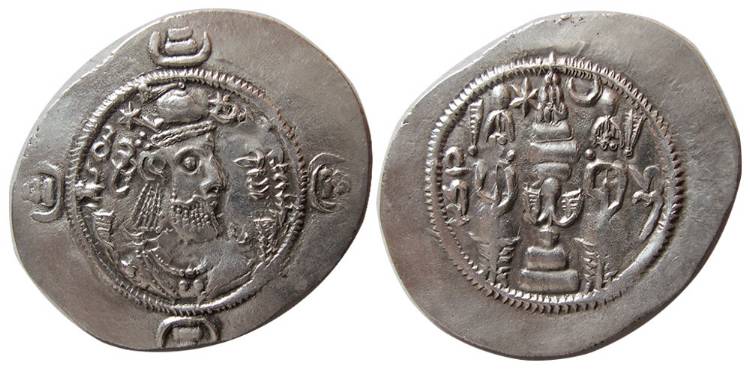 Sold

Winning Bid: $

900

1 Bid(s)
Description
SASANIAN KINGS, Vistahm (Bistam) (AD 591/2-597). AR Drachm (4.07 gm; 35 mm). Mint RD (Ray) on the right and year 2 on the left. Bust right, wearing mural crown with frontal crescent and pellet-in-crescent set on crescent, ribbons and crescents on shoulders; stars flanking crown; pellets-increscents within crescents in margin / Fire altar with ribbons; flanked by two attendants; star and crescent flanking flames. Gobl type I/1 (pl. 13, 205); Mochiri 19; Paruck -; Saeedi 274; Sunrise 977. Lovely strike on a nice broad flan. Choice EF. Lightly toned. Extremely rare in any condition.
Lot Details
Offered By:

Pars Coins

Lot #:

146

Listing #:

3551

Closed:

Friday, July 29, 2022 11:48:20 AM CT

Estimate:

$

1,500