Lot 86: SATRAPS OF CARIA. Maussollus. AR Tridrachm or Stater (377-353 BC).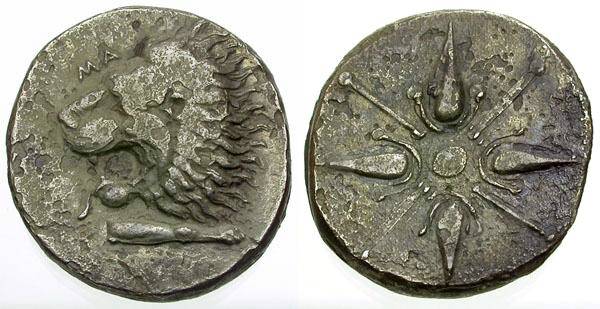 Starting Bid: $

900

0 Bid(s)
Description
Obv: MA above head and foreleg of roaring lion left.
Rev: Starlike floral pattern in shallow incuse.

Babelon Traite II, 88.

Condition: near Very Fine with light roughness and old medium toning.

Weight: 11.59 grams.
Diameter: 22.51 mm.

A rare type, seldom seen. Ex Harlan J Berk with tag.

From Wikipedia: The Mausoleum of Maussollos, or the Tomb of Mausolus, was a tomb built between 353 BC and 350 BC. It was built at Halicarnassus (present Bodrum, Turkey) for Mausolus Artemisia II of Caria, his wife and sister. He was a satrap in the Persian Empire. It was designed by the Greek architects Satyrus and Pythius.It stood about 45 meters tall. Each of the four sides was decorated with sculptural reliefs created by one of four Greek sculptors — Bryaxis, Leochares, Scopas and Timotheus.It was such an accomplishment that Antipater of Sidon said it was one of the Seven Wonders of the World. The modern English word mausoleum has come to be used generically for any grand tomb, though "Mausoleion" originally meant "building dedicated to Mausolus".
Lot Details
Offered By:

VAuctions

Lot #:

86

Listing #:

179991

Closed:

Thursday, May 10, 2012 4:42:30 PM CT

Estimate:

$

1,500