Dated Parthian Silver Tetradrachm. Rare!
Lot 61: KINGS of PARTHIA. Phraates IV. AR Tetradrachm, dated year 288 SE(24 BC).
AUCTION: Pars Coins (Auction 378)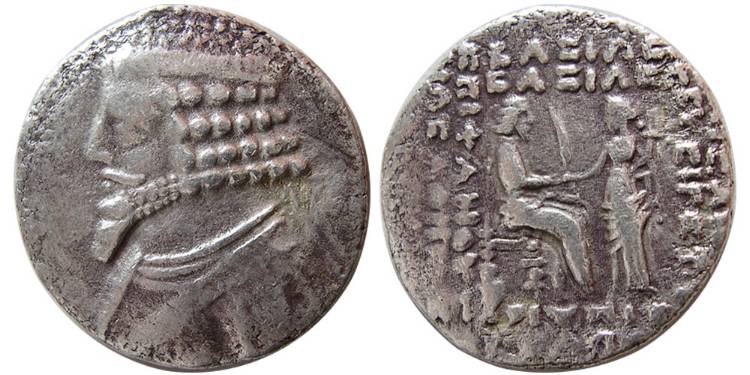 Starting Bid: $

90

0 Bid(s)
Description
KINGS of PARTHIA. Phraates IV (37-2 BC). AR Tetradrachm (12.40 gm; 29 mm). Mint = Seleucia on the Tigris, year = 288 SE(?), month = Xandikos (Mar/Apr 24 BC?). Diademed bust left, wart on forehead / Phraates seated right, receiving wreath from Tyche standing left, holding cornucopia; (year) and (month) in exergue. Sunrise 391var; Sellwood 51.33var.(?). Choice VF. Toned.
Lot Details
Offered By:

Pars Coins

Lot #:

61

Listing #:

3466

Closed:

Friday, July 29, 2022 11:20:00 AM CT

Estimate:

$

150