Lot 15: Seleucid kings, Seleucus I Nicator, 312-280 AR Tetradrachm, Susa circa 305-304.
AUCTION: NBJ E-Auction 2, Ancient and Islamic Coins (Auction 360)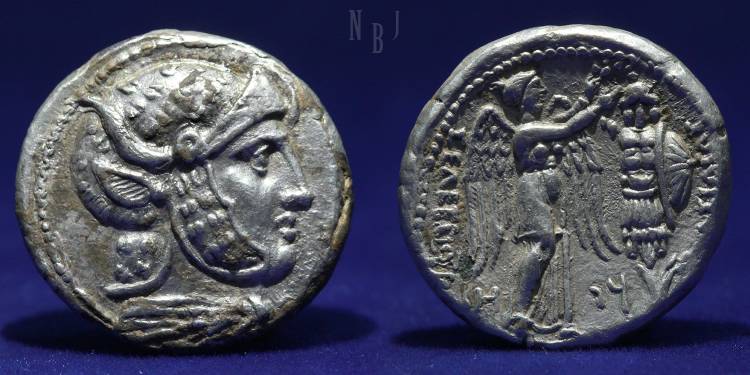 Sold

Winning Bid: $

4,000

1 Bid(s)
Description
Seleucid kings, Seleucus I Nicator, 312-280 AR Tetradrachm, Susa circa 305-304. Bust of Alexander the Great r., wearing helmet covered with panthers skin and adorned with a bull's horn and ear, and with a panthers skin tied over his shoulder. Rev. S??????S – ??S???OS Nike standing r., placing a wreath on trophy; in lower I H, field, monogram; in lower central field, monogram. Aramaic inscriptio. 13.66gm, 27mm. Extremely Rare and about extremely fine. With some light patina on obverse. Among the most intriguing of early Seleucid coins is this 'trophy' tetradrachm with an Aramaic inscription in the reverse field in place of the usual Greek monogram or control letters. Houghton and Lorber describe the two known examples as having been struck from different sets of dies, indicating it was not merely a unique production.Its design composition is identical to the standard 'trophy' coins of Susa, and the skill of the die engraver is laudable. Yet, peculiar details of the design and inscription, and the use of Aramaic, mark it as an irregular issue of some kind. Kritt suggests it was struck at a mint ""not under the direct administrative control of the Seleucid authorities"". It may have been an unofficial issue or an official issue produced at a temporary or branch mint at which dies were cut by a local engraver copying the work of the engravers at Susa. The 'trophy' coinage is now typically dated to c.305/4-295 BC, following Seleucus' Indian campaign. The helmeted, horned portrait has excited much comment. It remains uncertain whether it represents Seleucus I or Alexander III, or if it is a heroic figure who assimilates those two kings with Dionysus, a god famed for his conquest of the East. The trophy scene is a clear allusion to victory, and would have been an appropriate choice in the wake of a major campaign. In addition to the rather substantial 'trophy' issues of Susa (H&L I, 173-176), some irregular or outright imitative issues (H&L I, 196- 197, 199) appear to be roughly contemporary with the originals. Of barbarous style and manufacture are 'trophy' drachms and fractions naming Antiochus I (H&L I, 198, 226-228). They have been seen as official issues of a mint in Drangiana produced during Antiochus' coregency with his father, which would place them after the main issue at Susa had ended.
Lot Details
Offered By:

BIN JASSIM TRANS GLOBAL LLC

Lot #:

15

Listing #:

220097

Closed:

Friday, April 23, 2021 4:04:40 PM CT

Estimate:

$

8,500